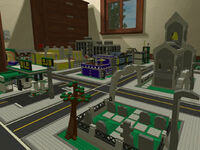 ACM City is a default build set in the Bedroom. It was built by ACM and was made a default build in Version 10.
ACM City is a very large build, taking up almost the entire bedroom, so it has many buildings, including:
A School
A Gas Station
A Small Church
A Police station
A Restraunt
Two Shops
A Fire Station
A Graveyard
The "NeoTech" Building
Ad blocker interference detected!
Wikia is a free-to-use site that makes money from advertising. We have a modified experience for viewers using ad blockers

Wikia is not accessible if you've made further modifications. Remove the custom ad blocker rule(s) and the page will load as expected.