The Printer is a white tool, spawned with the player by default, also spawnable from a brick, that can apply images to a
print brick
. It resembles a handheld label printer, and is based off of an actual one.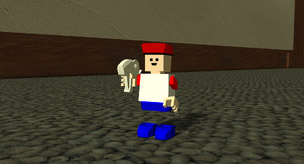 Variations
The printer is a popular model due to it's creative shape and unknown origin, and is used in a handful Add-ons and even re-used in the default Blockland.
Horse Ray
The Horse Ray is a green printer that fires a small bouncy laser, capable of transforming players in to horses.